Van Slam Adjustable Lowering Springs
for Volkswagen T5, T6 & T32
Lower your van by 40mm to 70mm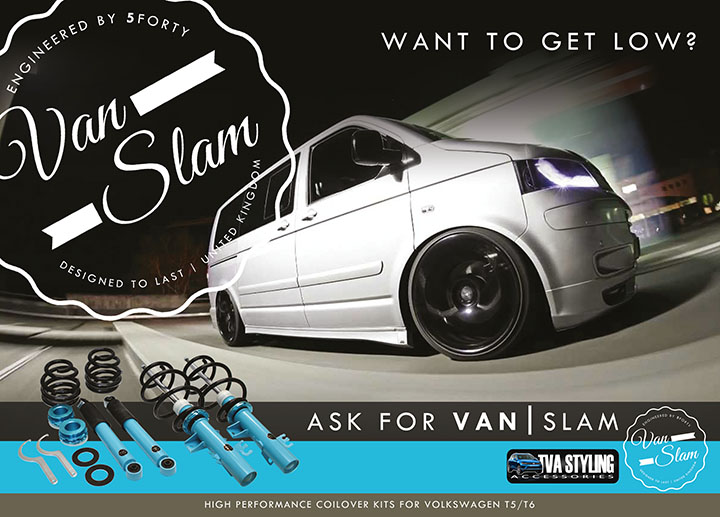 Van Slam Adjustable Lowering Springs for the Volkswagen T5, T6 and T32
These Coilover adjustable lowering spring kits are new to the UK market. Produced by 5forty the Van Slam lowering springs offer complete adjust-ability from a low 40mm reduction to a massive 70mm.
Designed in the UK with ride height, durability and comfort as priority the 5forty Van Slam adjustable lowering springs are not your average kit. Offering improved performance for your vehicle and also a professional stylish upgrade to your VW T5, T6 or T32.
Lowering Springs improve performance by lowering the centre of gravity. You will notice an immediate performance enhancement as well as improve the look and style of your van while maintaining the capabilities of a working vehicle.
Fully adjustable from 40mm to 70mm drops. We also offer a fitting option selectable from the menu above.
Van Slam Lowering Springs Feature:
· Suitability for all variations of VW Transporter 2003-2016 > T26/28/30 with a specific kit for T32 variations.
· Premium Performance and Stringent Quality Control during construction.
· Advanced dual front damper technology, with full monotube dampers at the rear for bearing heavy loads.
· Fully Adjustable ride height allowing 40-70mm lowering front and rear
· Ultra stylish, durable finish for corrosion protection
· Weight Rated to more than 1700KG on front and rear axles