Buy the Best Quality Bonnet Hood Protector 4x4 Styling for your Nissan Navara!
Specially engineered and Manufactured to OEM Original Equipment Standards and Practice.
Our TVA Styling bug shield is Manufactured using a thicker Premium Quality Dark Smoked Tint Acrylic that looks great but is still strong enough to afford the protection you need. It protects against not only the dirt build up of flying insects but also kicked up stones and debris whilst on the move. Remains stylish while taking the punishment of motorway or intensive driving, unlike the unprotected paint work.
We supply the shield with all the fitting components you need to fit it and this is a simple no drilling breeze!

Designed to be fixed to the under side of the bonnet, unlike self adesive types that can actually attract dirt and be a nightmare to clean around. Fitting is easy using specially designed clips attached to brackets and Durable OEM quality Pre fitted 3M adhesive tape that secures for years.
This product is totally NON DRILL and is supplied with all the fixing materials needed to fit the VW front Styling accessory to the vehicle.
Excellent OEM Quality Superior Grade Acrylic Construction, Precision engineering, Ready to Fix!
Just look at the pictures to see the quality and the effect!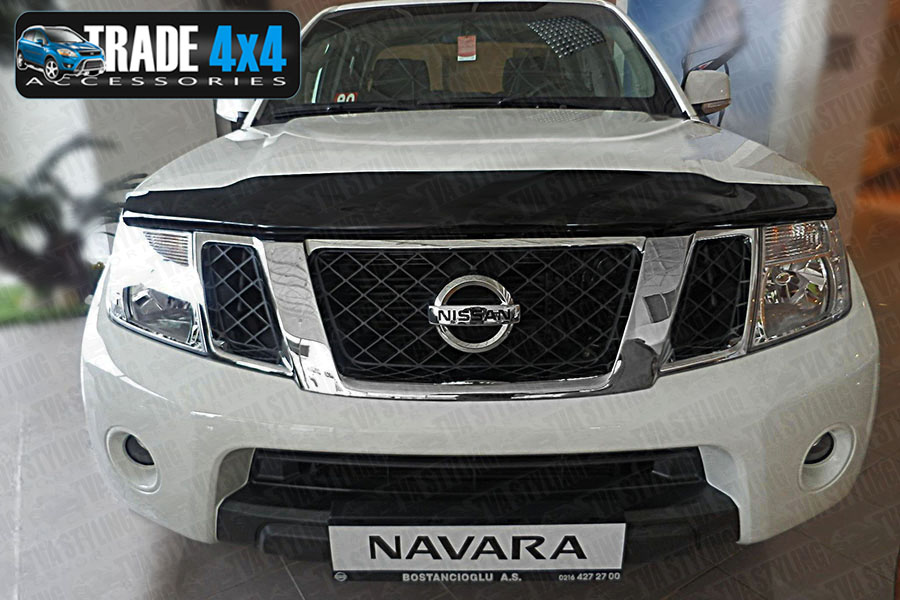 Superior Thicker Acrylic Construction for quality fit & finish

Easy mounting System - NO DRILLING - Fitting Instructions and telephone support


Really does help prevent bonnet damage and dirt whilst on the move

Will fit VW Navara 2005-10 Right and Left Hand Drive

Quality OEM Approved manufacturing process to ISO 9001:2008

Excellent value for your Navara 4x4 2005-10 SUV 4WD giving a stylish look

Beware of cheaper quality stick on guards that are difficult to clean, remove and cover the paint work.

*Note: Will NOT fit other models.

*If in doubt feel free to call our Sales Team who will be more than happy to assist!