VOLKSWAGEN AMAROK HARDTOP - THE OLYMPUS
The Olympus is our flagship VW Amarok Hardtop which features
opening side and rear windows, all controlled by remote central locking.
Please see the video below for a demonstration of the hardtop central locking

Available in all standard Volkswagen Amarok colour codes, the Truxtops Olympus hardtop is a a practical yet stylish canopy for the rear of your truck.
The Olympus is our top of the range hardtop which we beilieve is the best value on the market.
Aerodynamic styling with opening side windows, opening rear door and sliding internal window.
The central locking is easy to operate using the four button key fob.
Also comes with manual override keys and spare fob.
The rear tailgate and side windows utilise powerful gas struts making loading the Amarok hardtop a pleasure.
Additional features include high level brake light, interior light and fully carpeted roof lining for a luxury feel.
The Amarok hardtop is easy to fit with four clamps and no drilling required.
Electrical installation requires an inline fuse as shown in the video below.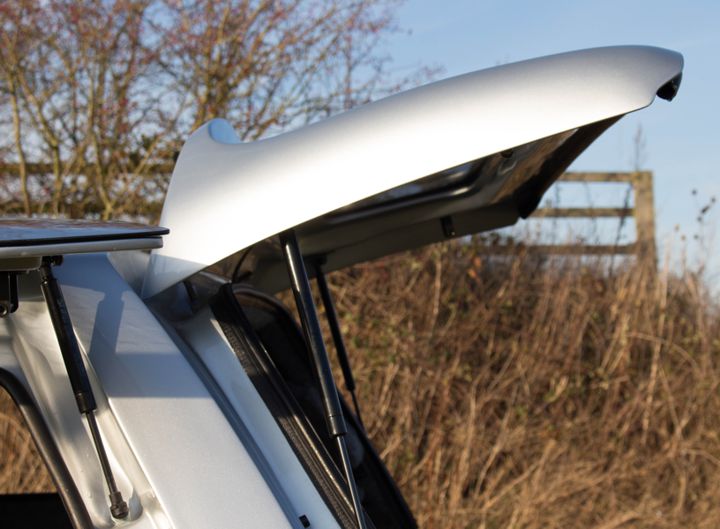 Remote Control Central Locking
Stylish design
Opening side windows with gas struts
Sliding front window
Integrated rear spoiler with high level brake light
Rear door opens up on powerful gas struts
Lockable and comes with two keys / two fobs
Complete interior grey carpet headlining for a luxury feel
Interior LED lighting
Clamp-on fitment, NO drilling required
Easy installation, inline fuse required for permanent live feed, see installation video
Hardtop available in a range of Volkswagen colours, please specify at the point of order.


*All colours have a 6 to 8 week lead time.
Hardtop colours are matched to official VW swatches for the Amarok,
However these may differ very slightly from your Amarok if the colour has faded on your vehicle. Exact colour match can not be guaranteed.
WHY NOT ADD A UNIVERSAL BEDSLIDER