TVA VIPER VAN 16x6.5" Gunmetal Grey Alloy WHEELS
Load Rated for Ford Transit Van 2000-on


Our TVA Fox Viper Van Alloy Wheels are a great choice for the Ford Van Range. Finished in our new GUNMETAL GREY finish the Viper Van 16x6.5" 5 spoke design is 5x160 PCD and ET50 Offset and specially Load rated to 950kg each for the most demanding Transit Application. Top Specification for Axle loads up to 1900kg including the Mighty 310 variants. Dont accept anything less!
Just look at the finish to these wheels in the pictures on this page. You would honestly believe you where looking at wheels
for high performance cars not wheels for vans!
Using the highest quality materials, specially engineered for the load ratings of modern vans.
And not only that, look at the PRICE!
A Price like this more likely reflects the cost of Budget Wheels for Cars - But No! Rest assured that because of our large buying power as the UK's leading Van accessories Warehouse we can supply these wheels at the above price. And not only that but they also come with 12 months limited warranty!

Price Includes:
4 x 16x6.5" Load Rated Alloy Wheels (950kg each)

For Axle Load Ratings up to 1900kg - Excludes 330 models

20 x Quality Wheel Nuts for Ford Custom Hubs
If you want tyres already fitted to this wheel please see our other listing.
Everything you need for the Ultimate in Styling accessories for your vehicle.
Excellent Quality, Load Rated, Road Legal, Precision engineering - Available Ready to Fit!
Just look at the pictures to see the quality and the final effect!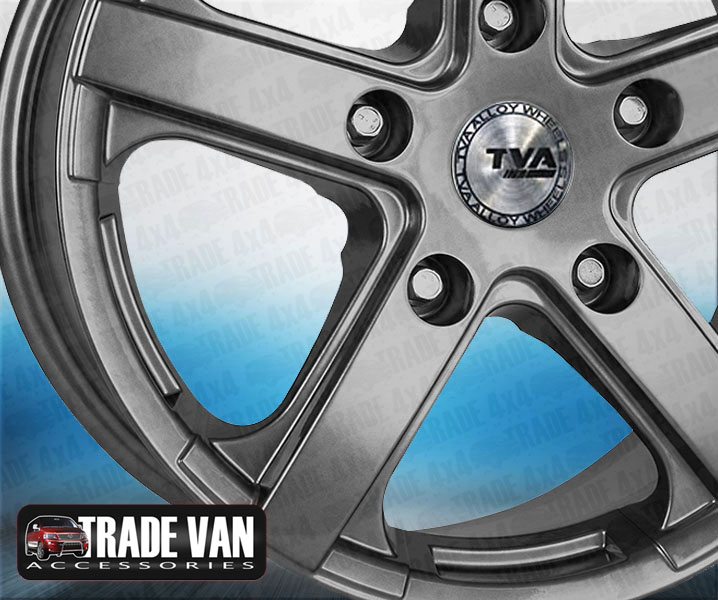 Top Quality - Engineered, Designed and Tested for Vans

Incredible Price but maintains durability*

Supplied with 12 Month Limited Warranty.

Full Range available for your van - Check our other wheels

This price includes 4 Wheels Only (Tyres are not included in this price)

Can also provide any make of Tyre to your request

Fully Load Rated 950kg Each Wheel -

for 260,270,280,290,310 models
Note*** NOT load Rated for 330 & 350 Models - Please check Gross Vehicle Weight (GVW) Before Ordering
There was a time when alloy wheels for vans didn't exist. Then due to Load Rating rules only extremely expensive or ugly wheels with large
thick spokes could be found. But now, thanks to advances in manufacturing techniques and the dawn of quick global sourcing we at
Trade Van Accessories are able to present the highly desirable range of TVA alloy wheels.


*To maintain high quality finish regular cleaning with non aggressive detergent is essential, especially when exposed to road salt.
*Avoid Acidic Cleaners (used at many Hand Car Washes)
*If in doubt feel free to call our Sales Team who will be more than happy to assist.
*Please Note - Wheel and Tyre sets are supplied with standard valves. TPMS valves will only be supplied upon acceptance of Trade Van Accessories' quotation. TPMS syncing to an engine management system can only be done at our workshop, upon acceptance of Trade Van Accessories' quotation. The vehicle owner accepts full responsibility to check and adhere to legislation determining which wheels, tyres and valves are fitted to their vehicle. Logos -Tradenames on the centrecaps and tyre tread patterns may vary from those in the photos on this page